Premium dining table and chair design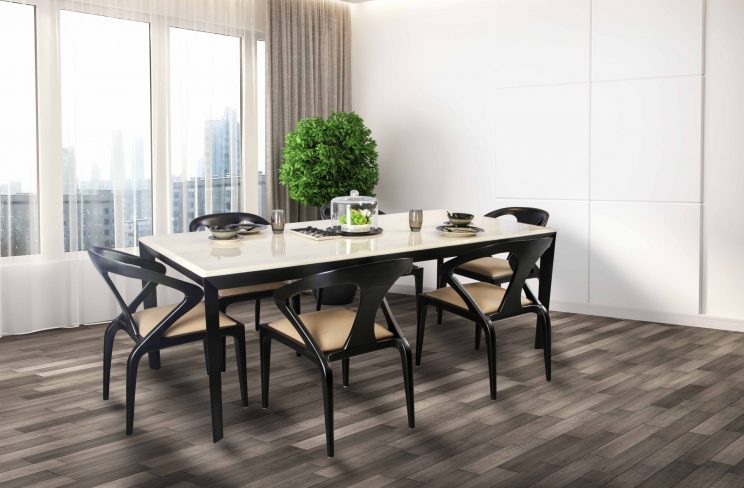 A dining room is one of the main socialising areas in a home. It serves as a place to enjoy good food and good company but what's equally important is that it should be a place that you enjoy spending time. And, as all hosts know, exquisite dining style comes down to so much more than what's on the menu. Yes, to choose a Premium dining table takes a lot of thought, but thanks to our handy buying guide, the process is now so simple.
Decide what you want from your dining room. For a dining space which is of daily use for breakfast, lunch and dinner, a more relaxed look works well with durable materials.
Choosing a dining table material
Like all furniture, dining tables are available in a variety of materials which is often the result of silhouette and style. Some of the most common materials in use for a Premium dining table are:
Wood:
Still the most popular material option, wood is hard-wearing, versatile and rich in both aesthetic and colour. It can be as simple or as decorative as you'd like depending on the grain and finishes (from distressed to high gloss) used. Options of carving, inlay and marquetry add interest too.
Veneer:
Not only are veneers flexible and durable, but they're also available in just about any wood finish. It includes exotic and rare woods.
Glass:
A thoroughly modern choice, glass is great for a sleek aesthetic and works well in rooms which are too small to house a wooden design which is visually denser. Use tempered glass for furniture for added strength.
Metal:
Metal is often the best material for dining table bases, especially for sleek, stylish designs. The material can be glossy, brushed, hammered or powder-coated. It can as well be teamed with wood, marble or glass tops to produce different looks.
Marble:
Another traditional material which is incredibly modern in certain dining settings is a marble. Often it is the best material for the tabletop and paired with wood or metal bases. However, some full marble tables are also available.
Choosing the right dining chairs
There are generally two types of dining room chairs to choose from. A carver (with arms) and a standard (without arms) dining chair. Round, oval or square tables will usually use a set of either one of these designs while a rectangular table will often make use of a combination of the two.
Since comfort is the primary concern when choosing dining room chairs, it's best to opt for upholstered designs. These are well-padded and covered in a durable fabric. Although, if your style is more rustic or you want a more informal look, a wooden ladder-back or Shaker-style chair or bench is a fitting alternative. These can have comfort added to them with the help of removable seat pads. Dining room chairs do good as they are durable owing to their heavy use. Padding, foam, webbing and strapping are all signs that a chair is of Premium quality. These will offer the most comfortable seat as well as maintaining the shape of the chair well throughout the years.
From the family that brought you Seating World comes Design 8 – a space that offers the very finest in bespoke craftsmanship. Backed by experience that spans 21 years across the office, contract and home furniture spaces, Design 8 is home to contemporary and timeless creations.